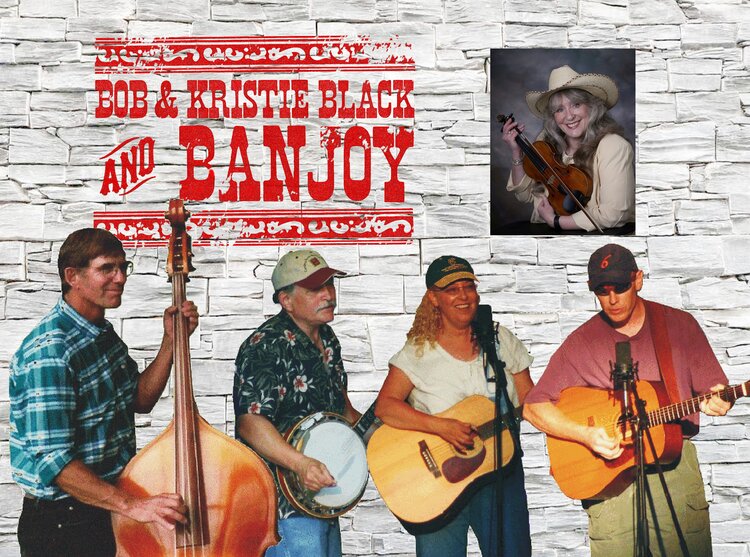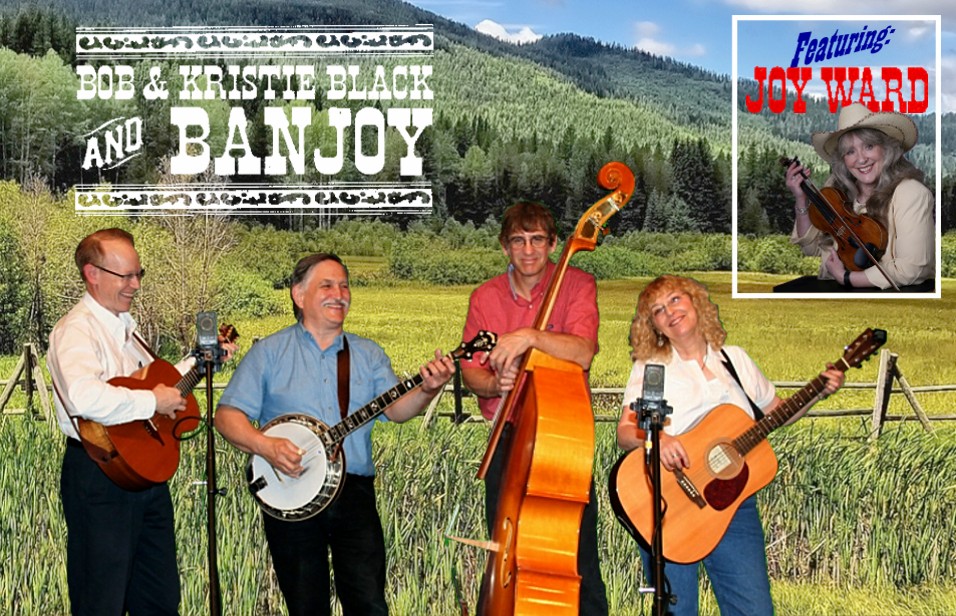 BANJOY is a bluegrass band with a unique and personal style.  Relaxed and friendly on stage, Banjoy plays everything from classic bluegrass and gospel songs to originals and lively instrumentals.  Harmony singing is an important part of Banjoy's repertoire, and the top-notch instrumental talents of the group are well-known and respected throughout the Midwest and beyond.
Banjoist BOB BLACK is a veteran of Bill Monroe's Bluegrass Boys.  He has written 2 books: one about his experiences with Monroe entitled COME HITHER TO GO YONDER (University of Illinois Press, 2005), for which he won the IBMA "Print Media Person of The Year" award in 2006; and a 2nd book entitled MANDOLIN MAN (University of Illinois Press, 2022), which is the first in-depth biography of the pioneering bluegrass figure Roland White.  Bob has performed and recorded with John Hartford, Bill Monroe, The Whites, Rhonda Vincent, and many others.  His banjo style is well-known and loved by banjo fans all over the world, and he is a singer-songwriter with numerous songs to his credit.  In 2002 Bob received the Traditional Arts Award presented by the Iowa Arts Council.  His playing and singing can be heard on well over forty different albums, dating as far back as 1973.
KRISTIE  BLACK has been writing and performing music for over 20 years.  Her sweet, to-the-heart vocals and traditional-style guitar playing make her the favorite of audiences and fellow musicians alike.  She has performed in bluegrass and gospel groups, taking her music to such places as Texas, Missouri, Illinois, Minnesota, Nebraska, and Wisconsin.  In 2001 she toured Australia with her husband, Bob Black, playing at that country's largest bluegrass festival in Harrietville, as well as at other Australian music venues.  Kristie has appeared on numerous radio and television programs, and has been prominently featured on several albums, including a duet project with Bob Black called IOWA SONGSCAPE (2001), and a live recording: WON'T YOU TAKE ME TO HINKLETOWN? (2009).
MARK WILSON is Banjoy's talented lead guitarist.  His style is distinctive, personalized and engaging. Filled with unique musical ideas, Mark's playing is always a surprise.  He can be heard on many recordings, including Bob and Kristie Black's CDs, IOWA SONGSCAPE and WON'T YOU TAKE ME TO HINKLETOWN?  Mark is also an accomplished singer-songwriter, and a member of "The Great Bluegrass Herons" and "The Burlington Street Bluegrass Band." He has been active in the "Iowa Theater Artists Company" and the "Old Creamery Theater" as an actor, singer, and musician.  His unusual sense of humor shines through in all his songs and onstage jokes.
PAUL ROBERTS has been playing bluegrass music since 1978.  He plays banjo, bass and guitar, and is a singer-songwriter. Paul has done a great deal of performing with Eastern Iowa's premier theatrical group, "The Iowa Theater Artists Company" as well as "The Old Creamery Theater."  Paul has fans among bluegrass lovers throughout the state of Iowa and beyond.  He has been teaching students to play banjo, guitar, bass guitar, and the big bass fiddle for many years, and he teaches at the Strawberry Jam Camp in Strawberry Point as well as Ice Jam and Wurst Jam in Amana.  In addition to playing bass with "Banjoy," Paul is a member of "The Great Bluegrass Herons," "The Burlington Street Bluegrass Band," "Goin' Up Caney," and his church band "Sharon Praise."
Fiddler JOY WARD, Banjoy's newest member, has been playing and singing since an early age.  She has a beautiful, expressive singing voice, and has appeared on eighteen different albums ranging from Celtic and folk to cowboy and bluegrass.  Joy was part of New Mexico's state champion bluegrass band in 2004. Upon moving to Iowa she joined "Castle Ridge" in 2006 and continues, with her husband, Mark Clark, to entertain audiences across the Midwest. Joy's beautiful vocals and original fiddle numbers are a delight to audiences wherever she appears.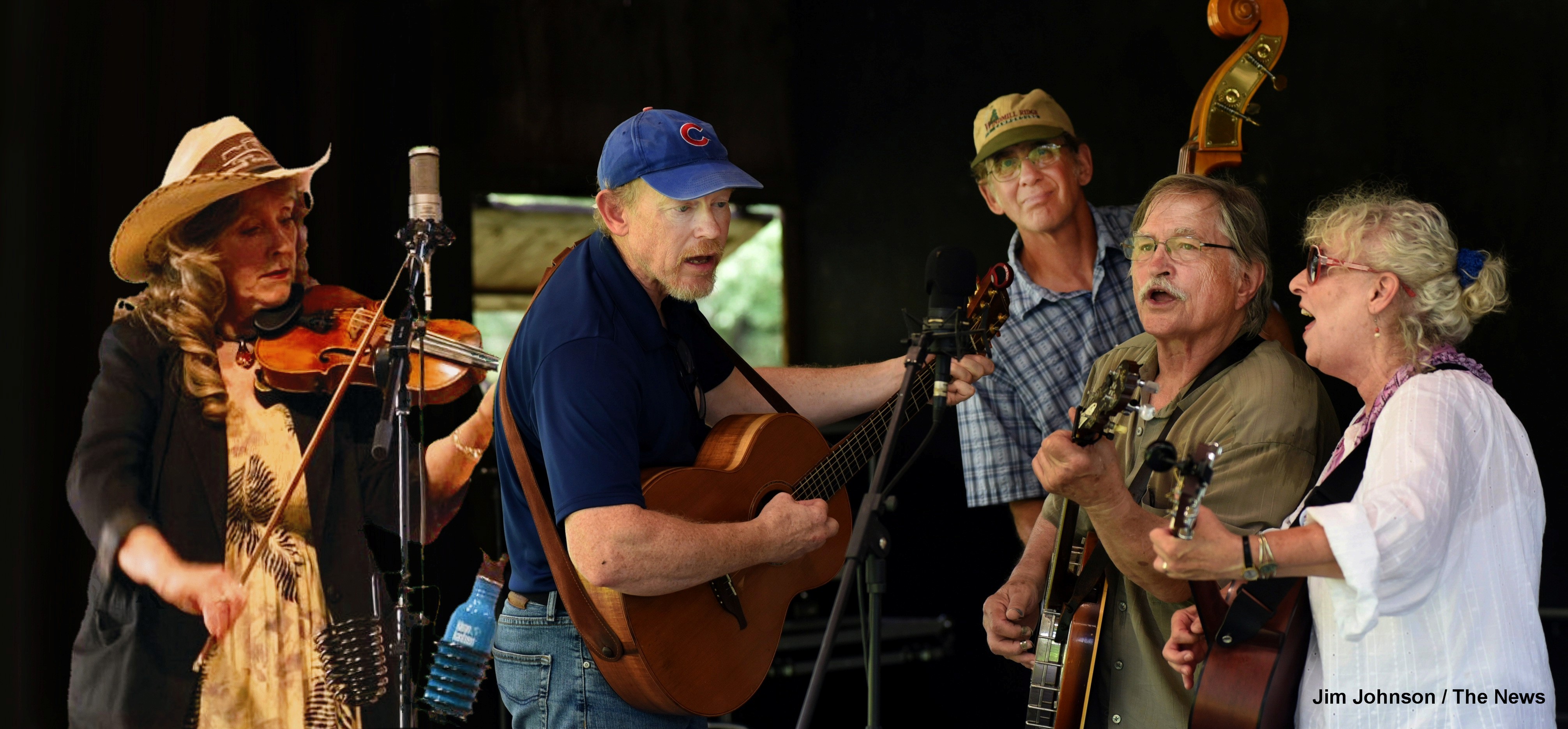 REVIEWS FOR BOB'S NEW BOOK, "MANDOLIN MAN: THE BLUEGRASS LIFE OF ROLAND WHITE:
"Black's own relevant musical experience, alongside his interviews with White, his family, and country music icons such as Marty Stuart, make this biography a must-read for bluegrass aficionados. Although White may not be a household name to those outside the bluegrass scene, he richly deserves this long-awaited tribute." –Library Journal, Apr. 13, 2022
"Superb. . . Bob Black has delivered another instant classic biography of one of bluegrass music's most valuable, but perhaps under-appreciated, influencers and torch-bearers. If you read but one bluegrass history or biography this year, make it Mandolin Man: The Bluegrass Life of Roland White." –Bluegrass Unlimited, Apr. 2022
"Kudos to Bob Black for shining a light on a great musician and even better person…Mandolin Man tells not only the story of the twists and turns of [Roland] White's long and winding career path, but also of the evolution of bluegrass music itself. His points of intersection with nearly every acoustic music icon are mind-boggling, and Black connects it all in fascinating detail with many first-person stories from and about dozens of iconic musicians."  –The Nashville Musician, Apr.-June, 2022
"Drawing on extensive interviews with White's fellow musicians and friends, Black, who played banjo in Bill Monroe's Blue Grass Boys, has produced an in-depth biography of the great mandolin player and multi-instrumentalist, whose death on April 1 left many music fans bereft. This is a warm and appreciative book that keeps White's presence alive." –No Depression, June 9, 2022
"Credit Black, a former member of Bill Monroe's Blue Grass Boys who has also performed with Ricky Skaggs and Ralph Stanley, for recognizing White as worthy of a full-length biography. He's done a thorough job of capturing this song-filled life…Black does a nice job of explaining White's musicianship in ways non-musicians can understand…" –Humanities Tennessee, June 23, 2022; Nashville Scene, June 30, 2022
"Black offers up a loose, easy narrative that unfolds like a pleasant ramble down a country lane…" –NewCity (Chicago), July 7, 2022
"This is a terrific book, loaded with dozens of stories and memories and endless inspiration." –Inland Northwest Bluegrass Music Association Jul-Aug, 2022
"Now, thanks to White's friend, banjo player Bob Black, who played with Bill Monroe and the Bluegrass Boys and who co-founded Banjoy, we have an affectionate fan's notes and tribute to White in the new book Mandolin Man: The Bluegrass Life of Roland White (Illinois)… Black draws on interviews with friends and fellow musicians to offer a warm portrait of White and his contributions to bluegrass. Fans of Roland White will certainly appreciate Black's book, and turn its pages as they listen to White's enduring music." –No Depression, July 14, 2022